I had a very good reading month.4 books read, including 1 ARC and 5 books that I listened to on audio. My favorite book was Miss Peregrine's Home for Peculiar Children and Wild: Lost and Found on the Pacific Crest Trail was the one I liked least. In fact, it is rare for me to finish a book that I disliked so much that is why you will not find too many books that I rate with only one star.
Nineteen
Minutes by Jodi Picoult 3.5 stars
Jodi Picoult's books are often about very timely and controversial issues. This particular book is about a school shooting and had me guessing until the very end how it would end.
Although I enjoyed this book and others that have read by Jodi Picoult, one of my biggest complaints are how long her chapters almost always are. I am a person, who usually likes to finish the chapter in one sitting, but that is rarely possible with the length of her chapters. I'd probably get through her books quicker, if she had shorter chapters and I could say just one more chapter...
This particular book had me guessing until the very end. I did not guess the ending until it was just about to happen and even then I did not figure it all out. That is how I enjoy most of my books; not knowing the ending until the end.
Harbor Lights by Sherryl Woods 3 stars
Book 3 in the Chesapeake Shores series.
This book was better than the 2nd book in the series, Flowers on Main, but not as good as the first one, The Inn at Eagle Point. I found the O'Brien's particularly meddlesome, to a point where it was almost infuriating. On the contrary though, without some of their meddling, Kevin and Shanna probably would not have gotten back together. I plan to continue with this series and see where it goes.
Life Moves Pretty Fast: The Lessons We Learned From Eighties Movies (And Why We Don't Learn Them From Movies Anymore) by Hadley Freeeman 2 stars
I really had high hopes for this book. I love the eighties and 80s movies, so I though this book would be a great stroll down memory lane and some of it was. Much it as the book went on was boring with too much discussion of feminist views and talk of what is wrong with the film industry nowadays. Also, the book and chapters were way too long with some of it feeling almost duplicative. I found myself skimming way too much of the book after the first several chapters and being anxious for it to be over. I really wish I could have rated it higher, but I just can't.
I received this book as an ARC through NetGalley, in exchange for an honest review.
Here Comes Trouble by Michael Moore 3.5 stars
I enjoyed this book more than I expected to. It was interesting to hear the stories of Michael Moore's life before we had heard of him once Roger & Me came out. Hard to believe that he was thinking of becoming a priest and went to a seminary boarding school for his 1st year of high school.
The Last Juror by John Grisham 3 stars
I enjoyed this. Somewhat disappointed in the end with who did it, but don't want to say anything else about it or else it would be a spoiler. Having the story be from a newspaper owners viewpoint was interesting and not the same attorney point of view as one expects from Grisham.
33 Men by Jonathon Franklin 2 stars
American Sniper: The Autobiography of the Most Lethal Sniper in U.S. Military History by Chris Kyle 3.5 stars
I enjoyed listening to this. The narrator was very good and since Chris Kyle is from Texas having a narrator who has southern accent makes the narration of the story more enjoyable and realistic.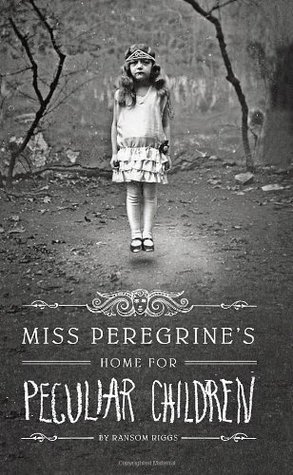 Miss Peregrine's Home For Peculiar Children by Ransom Riggs 4.5 sta
rs
This book is totally not my usual genre, but I finally decided to try it and was pleasantly surprised that I very much enjoyed it. It really difficult to decide exactly what genre it is; it's seems to be a combination: partly contemporary fiction, partly historical fiction and partly fantasy. I'll definitely go on to the next book in the series later this year.
Wild: Lost and Found on the Pacific Crest Trail by Cheryl Strayed 1 star.
I really did not like this book. It is about the author's trek on the Pacific Coast Trail, along with stories about her life. I did not like the person she was and every time the story seemed to improve, it went downhill again, reminding me how much I truly disliked it. I had doubts about it before I started but I decided to take a chance and listen to it on audio. I can understand her being depressed after her mother died at 45 of lung cancer, even though she had never smoked. But she was married to a decent guy and ran off to Oregon and had at least one affair and got involved in drugs, heroin.
When she decided to hike the Pacific Crest Trail, which goes from Northern Mexico to southern Canada, she was totally ill-prepared, having never backpacked before. Also at one point in the story she was talking about how her her 33 yr. old family horse needed to be put down, but since she could not afford a vet, she was going to do it the old-fashioned way and shoot the horse. Her brother stepped in and ended up doing it for her, but she describes it and describes the suffering the horse endured. This was totally unnecessary to have in this book and was quite macabre. Why she felt this was necessary to include in this book is beyond me, except to solidify my great dislike for this book and for the author. I gave this book 1 star. I had hoped the story would get better and it never did; if anything it almost got consistently worse. What a wasted 13+ hours of listening time. I later found out this was an Oprah Book Club 2.0 pick, if I had known I probably would not have read this. Most of the Oprah's book club selections that I have read, I did not enjoy. In fact, I usually will not read a book that she has recommended, since I never enjoy those books.
I'd love to hear if you read any of these books, what you thought of them or what your favorite books were that you read in March