Every Christmas season, I try to read several holiday books to get into the holidays spirit. This year I read 5 Christmas books.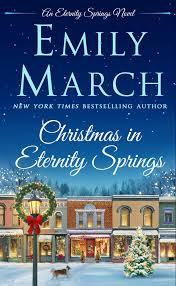 Christmas in Eternity Springs
by Emily March
This year I started my holiday reading earlier than I usually do; at the end of September, but that was due to me having signed up to participate in a blog tour for Christmas in Eternity Springs, whose Eternity Springs series is a favorite. This was one of two of my favorite holiday books this year. Definitely a 5 star read for me.
Welcome Home for Christmas
by Annie Rains
This was my other favorite holiday book this year, another 5-star read. This author was new to me this year and I believe this was also her debut series and I have to say that I loved it. She is starting a new series, I think in the early spring and can't wait to see where she takes it.
The Most Wonderful Time
By Fern Michaels, Stacy Finz, Sarah Title, Shirlee McCoy
I only read the first 2 stories, the one by Fern Michaels and the one by Stacy Finz. The other 2 I didn't care for, so I didn't finish them.
This series has a Christmas book come out every year, I've been reading one each Christmas for the past several years. I usually enjoy them very much, there's a good mix of adventure and romance, but this year I was just not crazy about the one that I read.
This was the last Christmas story that I read this year. I don't think I'll be reading anymore until next year. I had heard of this author for several years; she writes a Christmas story every year. The story itself was enjoyable, but what was not enjoyable was that it was written in 3rd person present tense, which makes for very awkward reading.